By NANCY REDWINE
Sentinel staff writer
How do you spend your time?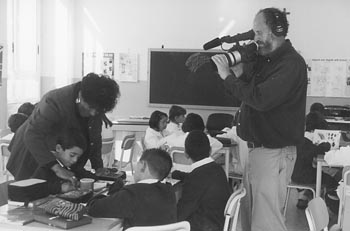 Bob Gliner, Ben Lomond-based filmmaker and sociology professor at San Jose State, looked closely at the accelerated pace of the American life and the changing value of free time in his 1999 documentary, "Time Frenzy."
Now in his two documentary videos, "Making a Difference," Gliner once again asks us to consider how we spend our time by examining the values of international volunteers.
At 9 and 10 p.m. Monday, on KTEH-54, you can see the television premier of "American Volunteers Abroad" and "College Volunteers Abroad."
The films are about volunteers and the sometimes awkward relationship between Americans and the rest of the world (a relationship experienced by most Americans as tourists).
Whether because of a calling to help others, a desire to see the world from a new perspective, or a mid-life crisis, the subjects of "Making a Difference: American Volunteers Abroad" are not your typical tourists.
"I don't necessarily want to visit cathedrals," says an unidentified volunteer. "I don't want to look at tapestry and art as the total focus of my travels.
"I like the thought of being able to meet the people, and this program gives me the opportunity to do that in a more personal way."
Gliner's subjects pay their own airfare, room and board, and other expenses for the privilege of volunteering in a variety of countries.
Projects may include classrooms in Italy, hospitals in Ecuador, a center for reconciliation in Ireland, a shelter for street kids in Africa, or an organic farm in Kenya.
The volunteers are united in the outlook that traditional tourism is shallow. They have a hunger for social and cultural engagement in the communities they visit.
They risk discomfort, disorientation and negative stereotypes of Americans to satisfy their quests for cross-cultural understanding and personal meaning.
Ryan Wilde, the volunteer site coordinator in Quito, Ecuador, turns the traditional tourist equation (being waited on) around when he says, "Serving others, I think, makes you happy ... It's the relationships that I have with people, the memories I have. These are the important things that I take away from the work that I do."
The videos complement each other with echoing themes: That colonialism and missionary zeal are no longer acceptable positions for Americans in developing nations. That relationships are where real learning happens. That the perspective of living in a less materialistic culture than America transforms people's thinking.
In "College Students Abroad," it's clear from interviews with young volunteers that they are learning more in service than they could in the classroom.
One person observes that college students are enclosed in an "academic ghetto," where they see an artificial image of life. Volunteer programs offer students a chance to go deeper into the world and encounter real life.
The insights in "College Students Abroad" are also relevant to people who find themselves locked in an employment ghetto, where reality is limited to a computer screen and a phone.
Tracy Klein, the in-country coordinator in Kenya, stresses that the American tendency to see ourselves as saviors of the developing world is corrected as quickly as possible.
"The most valuable international volunteer is the person who sees what they are doing as a small contribution," she says. "The ideal volunteer doesn't see themselves as helping, but as working with the local people."
In "American Volunteers Abroad," Elena Vascanez Hatt, coordinator of the Camp Hope Home for disabled children, says it another way. "The idea is not to bring ideas and culture and impose them, but to say: Let's do this together."
In the end, neither video is just about the volunteers themselves. Gliner gracefully weaves in history, politics and social reality of each place the volunteers go.
In Ecuador a volunteer in an orphanage encounters demonstrations against economic changes that are the direct result of U. S. economic policy.
In Ireland the conflict between Protestants and Catholics is discussed in a meeting of volunteers and Irish political activists
These films are not just about the generosity of individual American volunteers, but about the wider relationship between Americans and the rest of the world, and how working together on projects changes that relationship radically.
Like one college student teaching in a tiny village in Ecuador says, "They were fine before we came here, and they're going to be fine after we leave."
What she didn't say, but what Gliner communicates vividly, is that American volunteers are changed more by their contact with the wider world than the world is changed by them — and it is this kind of change that changes the world.