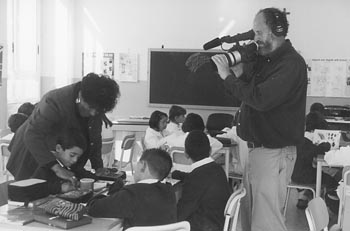 Social Distortion: Sociology professor Bob Gliner works to undo
ugly American stereotypes with a new film about volunteers.
Learning From Helping
Bob Gliner focuses on volunteers abroad in 'Making a Difference'
By Jim Aquino
AMERICANS WHO VENTURE into developing countries to help impoverished or needy citizens are frequently ridiculed by satirists, and it's easy to see why: how many more news-magazine clips of patronizing, self-serving American celebrities or philanthropists trying to save starving children or rain forests can we endure? Playwright Eric Bogosian once brilliantly sent up the inane and overbearing attitudes of these Americans in poor countries in his one-man show Sex, Drugs, Rock & Roll. He created a pretentious, English-born American rock star who meets an Indian tribe while on vacation in the rain forest and is dismayed by their "depressing poverty," so he decides to help them by buying them digital wristwatches, Walkmans, lighters and cigarettes.
You won't find any such cluelessness in local documentarian Bob Gliner's new two-part Making a Difference series. It's an interesting, unsentimental and to-the-point take on global volunteers, focusing on sensible average Americans (in Part I) and college students (in Part II) instead of the usual fatuous celebrities who have turned this kind of global work into a joke.
The two programs, which premiere back-to-back at 9 and 10pm on Monday (Aug. 28) on KTEH-TV (Ch. 54), show that not all volunteers are ugly Americans who think they can improve the lives of poor foreigners simply by handing them useless American items like digital watches.
The hard-working and sincere volunteers depicted in this globe-trotting series closely interact with their respective communities. They include San Francisco-based medical students who teach AIDS prevention in uneducated rural Kenya, house builders in Uganda, enthusiastic college-age schoolteachers in Andes mountain villages and twenty-something volunteers helping disabled children in southern France.
The series, which also addresses foreign resentment of American volunteers, avoids being one-sided by interviewing some of those skeptics, including a young Ecuadorian woman who likes the volunteers she works with but is frustrated with America's supremacist attitude.
"Americans in other countries, particularly developing countries, are often [stereotyped as] rich, materialistic and spoiled," says Gliner, who lives in Boulder Creek and teaches sociology at San Jose State University. "I think [the Americans in these documentaries] break down that image and show that there are people living in the United States who are willing to give freely of their time and aren't trying to push their culture onto people."
The members of volunteer organizations like the Minnesota-based Global Volunteers and the Global Roots college intern program manage to make a difference in their new communities without interfering with the cultures. Often, they get as much of an education as the people they are helping, by learning to view them as equals, or by learning from their host families how to interact better with their communities back home and how to survive without certain possessions.
"[A consumer lifestyle in the U.S.] can be very difficult to let go of," says an interviewee who helps disabled kids and builds homes in Ecuador. "But I think in the long run, [that won't] make you happy. ... Serving others makes you happy."
Gliner's last two documentaries, Time Frenzy and Silicon Valley at the Crossroads, centered on the hollowness of modern American life, particularly in Silicon Valley. This theme recurs in the Making a Difference programs, which suggest global volunteer work may be an answer to the boredom and unhappiness that some Valley workers experience.
In the first program, a Cupertino worker talks about how friendly Cisternino, Italy, where he spent a few weeks as a high school teacher, was a nice break from frantic, isolationist Valley living.
"I feel that underneath [Silicon Valley's] prosperity, there's a real sense of emptiness and a lack of moral purpose: Where are we going with all this? We're getting faster computers, but for what?" Gliner says. "There are a lot of people in this area, as well as in other parts of the country, who are looking to do something different, to find a sense of community and a sense of purpose. This kind of volunteerism enables people to do that."
---
Making a Difference, Parts I and II air back-to-back at 9 and 10pm on Monday (Aug. 28) on KTEH-TV (Ch. 54).