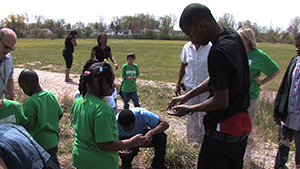 "A must-see for anyone who is truly interested in educational excellence and equity for all children. Through the voices of children, teachers, legislators, community-based organizations and partners, the film clearly documents the power of connecting the work that students do in schools to the critical needs and concerns of their communities. This is place-based education at its very best."
—Doris Terry Williams, Ed.D., Executive Director, The Rural School and Community Trust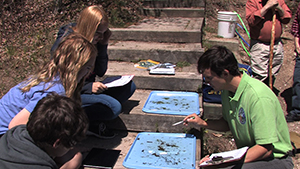 "The Initiative depicted in this film embodies one of the most comprehensive and far-reaching approaches to place-based environmental education in the United States."
—Gregory Smith, Professor of Education, Lewis and Clark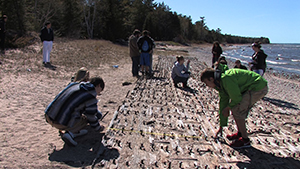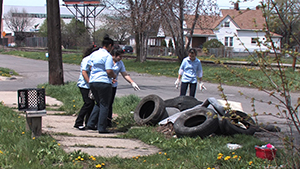 Growing Up Green
(28 minutes)
ENHANCED EDUCATIONAL/INSTITUTIONAL USE DVDS
Purchase an enhanced DVD licensed for college, school, library or community use, from The Video Project



Growing Up Green profiles a unique statewide, hands-on environmental education program in Michigan, the Great Lakes Stewardship Initiative. For the very first time, both rural and urban schools across the state are working to increase academic performance by involving students in local efforts to improve the environments they inhabit.
High school students in an interdisciplinary science and math class in Houghton developed ROV's (remotely operated vehicles) to use in underwater explorations looking for invasive species. Across the state in Alpena, elementary school students use similar ROV's to aid Fish and Game biologists in their research.
In Lansing and nearby Grand Rapids, elementary and high school students raise salmon in their classrooms, then restock local rivers, weaving science, math, history and art though their year-long curriculum. In Muskegon, elementary students plant a former dump site with non-invasive species, restoring a natural habitat, while learning valuable watershed lessons.
In Detroit's inner city, high school students renovate 800 houses with energy saving devices as part of their science and math program, while Detroit middle school students perform regular 'tire sweeps' of the neighborhood around their school, helping a local nonprofit in its recycling and poverty alleviation efforts. Professional development is offered through nine hubs to help teachers facilitate inquiry-based learning and problem-solving, and to sustain school-community partnerships.
Read more about the Great Lakes Stewardship Initiative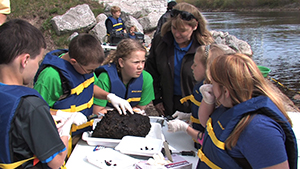 Growing Up Green should be required viewing by every educator in the country. Worldwide, people and communities are facing a variety of interconnected ecological and social challenges. Too often, standardized school curriculum remains unresponsive to these challenges, and this lack of responsiveness is one reason for a pandemic of student disengagement. Whether the issue is assessing local water quality and supply, transforming neighborhood poverty and neglect, or monitoring invasive species in a nearby stream, Growing Up Green profiles committed educators, students, and community members who have learned how to embrace these real world needs as curriculum, curriculum that is also designed to promote multiple content area literacies. One of the insights from this film on place-based education is its emphasis on the need for schools to establish community partnerships. The Great Lakes Stewardship Initiative, which connects many of the projects profiled in the film, is an inspiring example of a mechanism that helps to nurture partnerships between schools and community organizations. This initiative is can serve as a model for other regions to organize for learning that matters to people and places now and for the long run.—David A. Greenwood, Canada Research Chair in Environmental Education Director, Centre for Place and Sustainability Studies Faculty of Education, Lakehead University, Canada