"Making A Difference, characterizes the value and significance of international volunteer opportunities in a very personal way. A great introduction to anyone interested in volunteering abroad."

Christine Victorino,
International Volunteer Programs Association

MAKING A DIFFERENCE VIDEO SERIES

American Volunteers Abroad
(56 minutes)
[Add to Cart] [View Cart]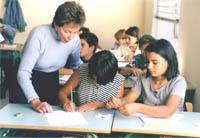 Making a Difference: American Volunteers Abroad, highlights Americans engaged in a wide variety of volunteer efforts outside the United States - teaching english in rural Kenya, providing health care to poverty stricken mothers and children in Ecuador, working with street children in Tanzania, helping resolve the conflict between Protestants and Catholics in Northern Ireland, teaching bio-intensive agriculture in East Africa, building houses in Uganda, teaching english in southern Italy, and many others. What motivates these volunteers to get involved? What do they get from their experience? What is their cultural impact? What problems do they encounter and how are these overcome?
American Volunteers Abroad, looks at projects virtually any adult American can become involved in whether they have only their two week vacations or can devote a year to a volunteer effort. This program follows volunteers representing a broad range of occupations who participate in efforts by four of the leading international volunteer organizations based in the United States: Minnesota based Global Volunteers, Georgia based Habitat for Humanity, Washington D.C. based Visions in Action, and San Francisco based Global Service Corps.
College Volunteers Abroad
(56 minutes)
[Add to Cart] [View Cart]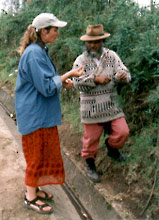 Making A Difference: College Volunteers Abroad, highlights students doing volunteer work and engaged in service learning outside the United States - helping disabled children in southern France, teaching rural indigenous children high in the Andes mountains of Ecuador, working in a hospital for women and children in rural Kenya, giving assistance in a Masai clinic while interning with a Masai healer, working with abandoned children in Guayaquil, Ecuador, and many other volunteers efforts. Focusing on three of the leading U.S. based programs - New York based International Partnership for Service Learning, Minnesota based Minnesota Studies in International Development, and Berkeley based, Global Routes, this documentary offers an in-depth look at experiencial education set in an international context. Combining intense in-country classroom experiences with homestays with local families and community service or volunteer work, lasting from a semester to one year, students comment that these experiences often enable them to learn more in a few months than they have in their entire college careers.


How To Live Your Dream of
Volunteering Overseas
If you are hungry for information on how you can help people overseas while exploring other cultures, making friends, learning about yourself, and enhancing your skills, then we also would like to recommend, How To Live Your Dream of Volunteering Overseas. Visit the book's Web site for more information.
| Home |